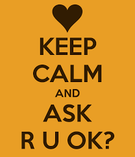 The importance of asking someone you are concerned about "Are you ok?" is a message you are never too young to learn. By giving young people the confidence to start conversations regularly and with real care, they will be the generation that can transform the way we look out for and support someone who maybe struggling; schools can play an important role in promoting this initiative.

​The R U OK? Schools Program provides age appropriate lesson plans and worksheets for teachers, which will inspire students to support their friends.
​
​Students will begin to develop pre-helping skills and understand the importance of active listening and effective communication.

Lifeline Shanghai can provide a variety of school based options for implementing the R U OK? Program in English language schools.For further information please email: outreach@lifeline-shanghai.com
---
R U OK ? AT SCHOOL
​Something we're never too young to learn is that asking "are you ok?" can make a difference - and it's a message R U OK? wants to take into the classroom.
By giving teenagers the confidence to start conversations regularly and with real care, they can be the generation that transforms the way we look out for anyone struggling with life.
CLASSROOM TOOLBOXES - YEARS 7-8

We've four lesson plans (with worksheets!) to inspire great conversations in the playground and classroom.
---
CLASSROOM TOOLBOXES - YEARS 9-12

Help students ride the highs and lows of school life with these four lesson plans.
---
CONVERSATION CORNER KIT

Help students find the time and place to talk about the good and bad times with each other by creating a Conversation Corner in your school. This kit has all the tips you need to involve students, teachers and carers in this project.
---
---